When:
July 13, 2022 @ 12:00 pm – 1:00 pm
2022-07-13T12:00:00-05:00
2022-07-13T13:00:00-05:00
Learning Lunch with Tom McGehee:
Mobile Before Air Conditioning
Wednesday, July 13, 2022
12:00 pm – 1:00 pm
History Museum of Mobile
The History Museum of Mobile's Learning Lunch Program is on Wednesday, July 13th, at 12:00 pm and will feature Director of Bellingrath Home and columnist at Mobile Bay Magazine, Tom McGehee. He will discuss the topic, Mobile Before Air Conditioning.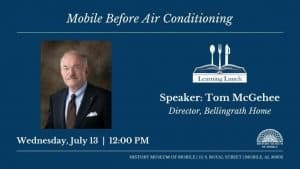 Since 1994, Tom McGehee has served as Museum Director for Bellingrath Gardens and Home, overseeing the collections and archives housed in the 15 room Bellingrath Home. He currently serves on the boards of the Friends of the Alabama Governor's Mansion, the Friends of Magnolia Cemetery, the Historic Mobile Preservation Society, the Historic Restoration Society (Cotton Hall), the Rotary Club of Mobile and the Rotary Children's Foundation.
History Museum of Mobile invites the general public to attend the free Learning Lunch lecture series. Guests are encouraged to bring their lunch and enjoy a presentation on an historical or cultural topic. For more information on Learning Lunch, contact Jennifer Theeck, Curator of Education, at (251) 301-0270 or by email at theeckj@historymuseumofmobile.com.