25 days of Christmas fun and giving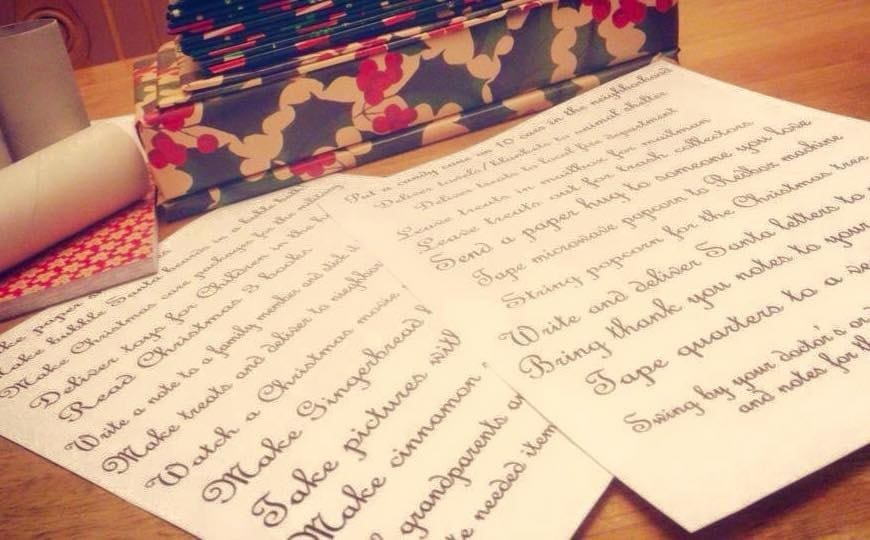 For the last several years our family has had a tradition on the 25 days leading up to Christmas where we map out a month with giving, silliness, and traditions. We wring out every last BIT of holiday spirit from the season! This is not for the faint of heart…but with some good preplanning…..and a dash of cheat days…we have managed to add a whole 'nother level of CHEER to our Christmas! If you are looking to add some to yours here are some tips, tricks, and ideas we have added over the years to fit it all in and not burn out.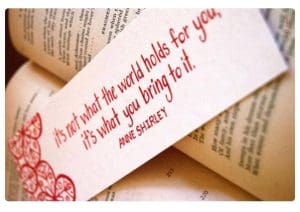 Quick Note: This can seem overwhelming and insane at first glance! HOW in the WORLD do you squeeze all this in….and WHY in the WORLD would you do this to yourself!? The first year we ran on the excitement of it. There were just so many new and fun things to add to our favorite time of the year! Now we all have our favorite things we do, and we have learned to be flexible!
First things first is planning ahead! Many of our dates are already set before December even gets here. With performances of the Nutcracker out of our hands, and volunteering at the Angel Tree and Salvation Army limited to certain dates (and needing to be booked way in advance!), we get those on the calendar early, so we can plug them in first thing! Next up we throw in new things that have made it to the calendar already but weren't there before (and may not make it back next year)….some years this has looked like a performance of A Christmas Carol, a Santa Brunch (pictures with Santa), a Christmas parade, and ice skating (in the deep south this is pretty special!).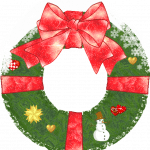 We start with a sheet of notebook paper and line the dates and day of week down the side to keep me straight. I use a pencil because sometimes we have to reassign a date. Next I start plugging known things in like I mentioned above! In year's past we have put slips of paper in brightly decorated toilet paper rolls, or festive envelopes with the dates on them…..in years I am less ambitious we settle on a pretty list written/typed on a piece of paper, held to the fridge with merry magnets. As you are making your list and picking dates remember day specific people places too. For example you need a Monday through Saturday if you plan to give it to your mailman. If you plan to give to your garbage people you need to plug in on a pick up date and call ahead to let them know to look for something if their truck has an arm that picks up your can and not a person.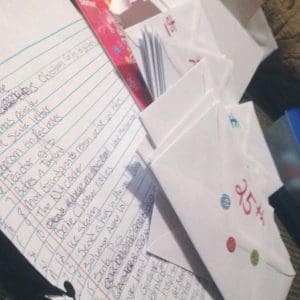 You may be thinking that the cost of this idea is out of your budget, but most of what is on our lists have to do with time. We have never been able to give many things that add a great deal to our holiday budget. There are a couple things we do spend money on.  One is gifts to the local children's hospital. We have found the biggest bang for our buck when Walgreens runs it's buy 2, get 2 FREE sale! This sale usually allows for 4 gifts for around $13. They have really nice things, and each child is able to pick out two gifts each! (I have used this sale to get me through many a personal tight Christmas for my own children as well!) Walgreens usually runs this sale mid month, so we put the giving day of those gifts near the end of the 25 days.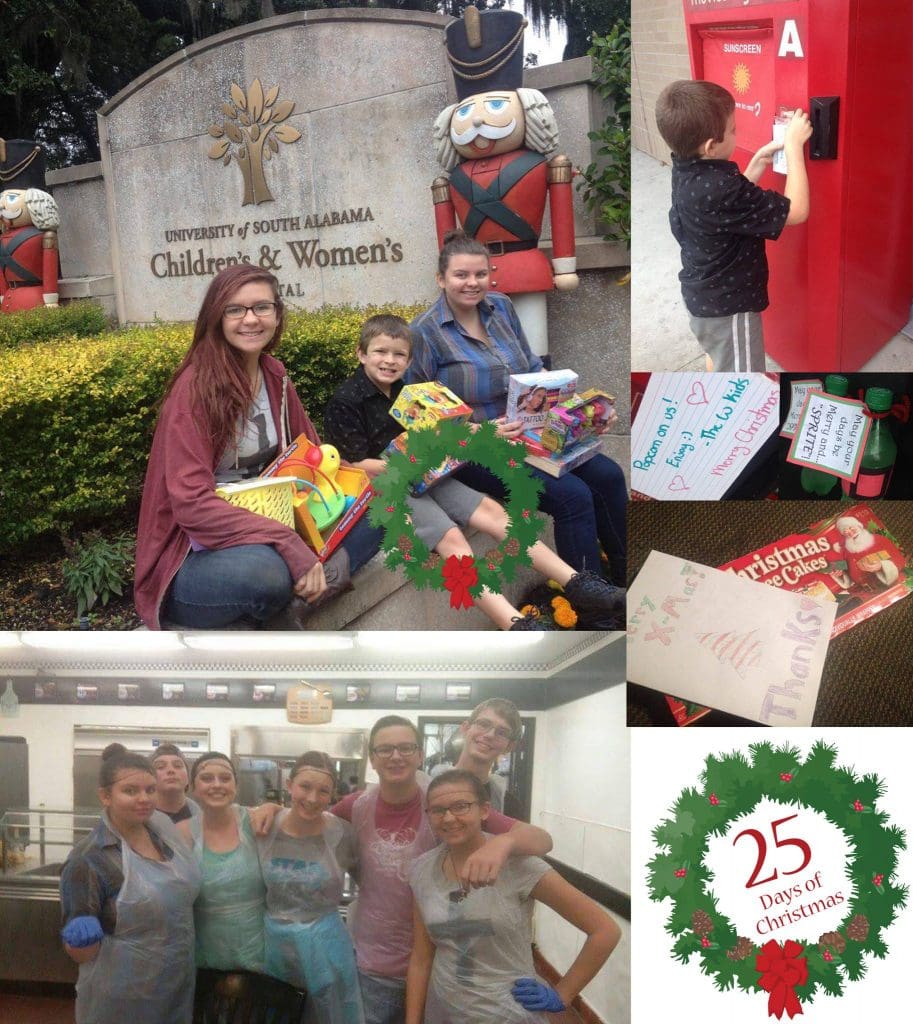 The other is a care package to a soldier. I put it out on social media that we are looking for a deployed soldier to send to, and I always get a good response. This type of thing needs to be early on the list as shipping can take a while, and you want care packages to reach them before the holiday. You can also make this a wider family, or community activity asking for friends and family to donate items and/or chip in on shipping. Other minor cost items/ideas are Little Debbie snacks for the firemen, police, and garbage men, candies for the mailman, popcorn for the red boxes (3 sealed packages for $1! One per red box!), and loose change for the drink machines!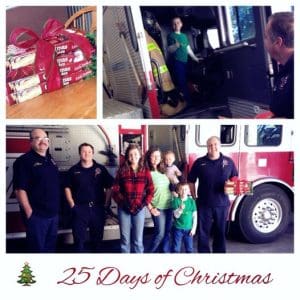 The rest of the ideas that we have used are pretty flexible. Things like sending a hug in the mail, stringing popcorn while watching christmas movies, and making cinnamon rolls for breakfast while singing Christmas songs, can all be done on any day or all on one day! If you are tired or miss the moment, you can scoot it around, or skip it completely. This isn't a new idea, I have seen it all over social media. You can look through lists and find the things that fit your family, and your idea of fun. This should not be a chore! Other ways you can incorporate this fun on a smaller scale would be to condense this and do "4 weeks of Christmas", and plan a handful of things to do each week. Another easy idea would be putting the flexible ideas on slips of paper and dropping them in a bowl. Then when the mood strikes, or when the opportunity has been earned, you could play "Choose a Christmas Cheer" and draw your own adventure! Above all remember…."The true spirit of Christmas lies in your heart" ~ Santa Claus (Polar Express)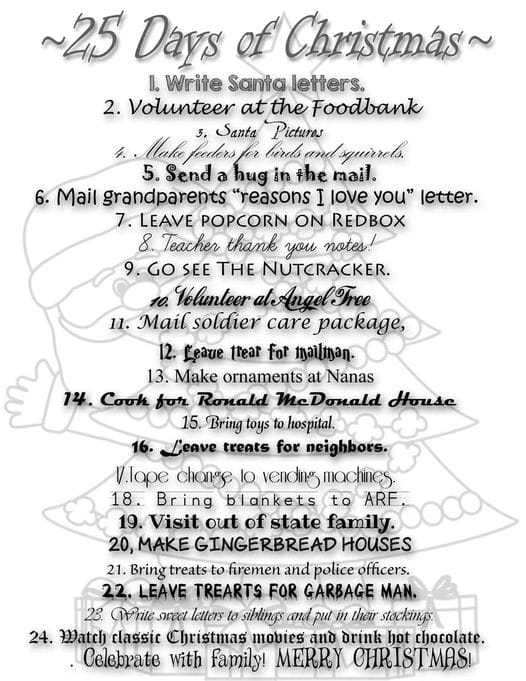 *We do homeschool so #8 might seem weird. My kids wrote to their co-op teachers that year and they got the biggest kick out of it!