Museums Around the World
There are beautiful museums, and works of art, all over the world that unfortunately many of us won't be able to visit in persn anytime soon. However, thanks to Google Arts and Culture collections, we can get a much more personal look! Google has visited hundreds of museums and rolled through their hallways to bring US a virtual tour experience that can't be missed! How did they DO this? Check out this video for more! (Side note: You can catch a glimpse of this contraption in some of the mirrors in some of the museums!)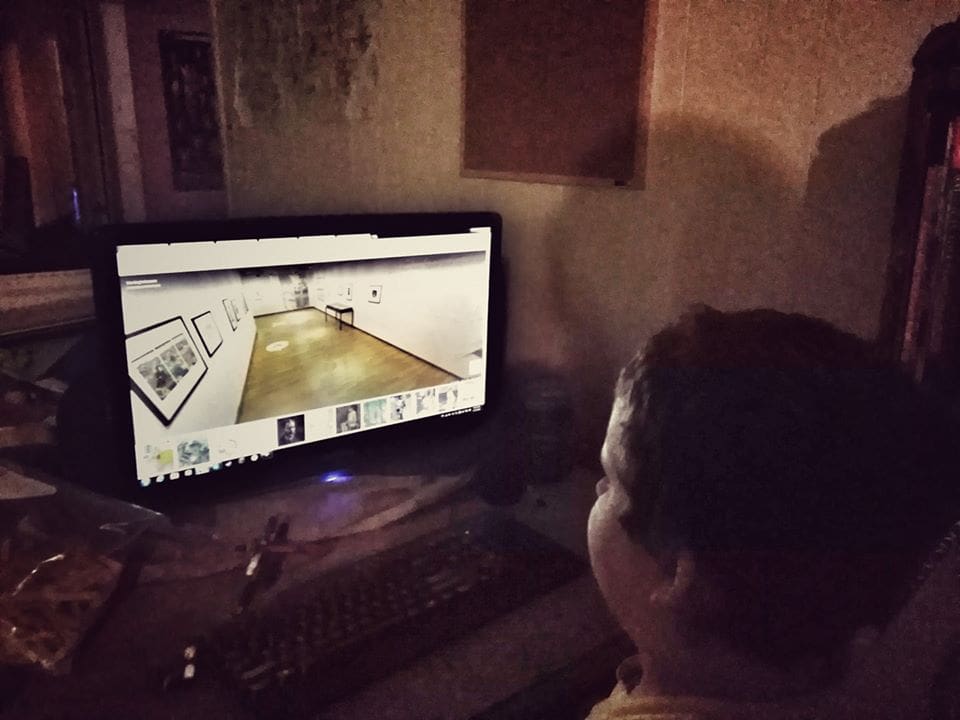 Now not all of the museums found on Google Arts and Culture have the virtual tour option. Once on the site you can click on a museum and if it has a little person icon it can be toured virtually!
If you are an Adventure member I have the museums listed that you can virtually tour, and have them broken down by country… #ErinsAdventures #AdventureExtras
**Disclaimer** These are ALL of the Google art museums that offer virtual tours. Some may not be Age appropriate, or ones that you want your children to view, so be sure to check which ones they are choosing. Also, as they contain art from many centuries they may contain nudity and/or suggestive scenes.
United States of America
Adams National Historical Park, Quincy
Albany INstitute of History & Art, Albany
Alcatraz Island, San Francisco
American Association for People with disabilities, Washington
American Museum of Natural History, New York
Amon Carter Museum of America, Fort Worth
Andrew Johnson National Historic site, Greenville
The Art Institute of Chicago, Chicago
Art Museums of the Americas, Washington
Baltimore Museum of Art, Baltimore
Bandalier National Monument, Los Alamos
Bergstrom-Mahler Museum of Glass, Neenah
Bronx Museum of the Arts, New York
California Academy of Sciences, San Francisco
Center for Jewish History, New York
Chaco Culture National Historical, New Mexico
Chrysler Museum of Art, Norfolk
Cincinnati-art-museum, Chicago
Cincinnati-museum-center, Chicago
The-cloisters-museum-and-gardens, New York
Computer History Museum, Mountain View
Corning Museum of Glass, Corning
Crystal bridges museum of american art, Bentonville
De Young Museum, San Francisco
Dixon Gallery Gardens, Memphis
Eisenhower national historic site, Gettysburg
Eleanor-roosevelt-national-historic-site, Hyde Park
The feminist Institute Digital Exhibit Project, New york
Florida State Museum of Fine Art, Tallahassee
FOR SITE Foundation, San Fransisco
Fort vancouver national historic site, Vancouver
Frederic Remington Art Museum, Ogdensburg
Frederick Douglass National Historic Site, Washington
Smithsonian-freer-sackler, Washington
The Frick Collection, New York
George Washingtons Mt Vernon, Mt Vernon
Gerald R Ford Presidential Library, Grand Rapids
Gettysburg National Military Park, Gettysburg
Hampton National Historic Site, Towson
Harry S Truman Historic Site, Independence
Home of Franklin D Roosevelt, Hyde Park
Houston Museum of Natural Science, Houston
Independence National Historical park, Philidelphia
Indianapolis-museum-of-art, indianapolis
International Storytelling Center, Jonesborough
Intrepid Air and Space Museum, New York
Isabella-stewart-gardner-museum, Boston
The-j-paul-getty-museum, Los ANgels
James-a-michener-art-museum, Doylestown
The James Monroe Museum, Fredericksburg
John F Kennedy Center for the Performing Arts, Washington
Klehm-arboretum-botanic-garden, Rockford
The-new-york-gay-and-lesbian-community-center, New York
Lincoln Center for Performing Arts, New York
Lincoln Home National Historic site, Springfield
Los-angeles-county-museum-of-art, Los Angeles
Maggie-l-walker-national-historic-site, Richmond
Marsh-billings-rockefeller-national-historical-park, Woodstock
Martin-van-buren-national-historic-site, Kinderhook
The-metropolitan-museum-of-art, New york
The Mexican Museum, San Francisco
Minneapolis-institute-of-arts, MN
The-morgan-library-museum, New York
Morristown National Historical Park, Morristown
Museum of african american history- boston nantucket, Boston
The museum of fine arts houston
Museum-of-latin-american-art, Long Beach
Moma-the-museum-of-modern-art, New York
Museum-of-russian-icons, Clinton
Nasher-sculpture-center, Dallas
National-academy-museum-school, New York
National Baseball hall of Fame, Cooperstown
National Building Museum, Washington
National-constitution-center, Philadelphia
National-cowboy-western-heritage-museum, Oklahoma
National-museum-of-american-jewish-history, Philadelphia
National-museum-of-mexican-art, Chicago
National-museum-of-women-in-the-arts, Washington
National-music-museum-university-of-south-dakota, SD
National-trust-for-historic-preservation, Washington
National-watch-and-clock-museum, PA
The-nelson-atkins-museum-of-art, KS
North-carolina-museum-of-art, NC
Open-walls-baltimore, Baltimore
The-oriental-institute, Chicago
Panhandle-plains-historical-museum, Canyon
Parsons-school-of-design, New York
Peoria-historical-society, Pioria
Philbrook Museum of Art, Tulsa
President Woodrow Wilson House, Washington
Random-acts-project, Los Angeles
Sagamore-hill-national-historic-site, Oyster Bay
San-bernardino-county-museum, Redlands
Shangri-la Museum of Islamic Art, HI
Smithsonian-american-art-museum, Washington
Smithsonian-institution-building-the-castle, Washington
Smithsonian-national-museum-of-natural-history, Washington
Smithsonian-national-air-and-space-museum, Washington
National-portrait-gallery, Washington
National-postal-museum, Washington
South-austin-popular-culture-center, TX
Spencer-museum-of-art, Lawrence
Stafford-air-and-space-museum, Weatherford
The Strong National Museum of Play, NY
Swiss-institute/Contemporary Art, New York
Thomas-edison-national-historical-park, West Orange
Thomas-jeffersons-poplar-forest, Forest
Thomas-Jefferson-Foundation-at-Monticello, Charlottesville
Solomon-r-guggenheim-museum, New York
U-s-national-archives, Washington
Usc-fisher-museum-of-art, Los Angeles
Vicksburg-national-military-park, Vicksburg
Virginia-museum-of-fine-arts, Richmond
The-water-tank-project, New York
World-chess-hall-of-fame, St Louis
FRANCE
Castle of Chenonceau, Chenonceaux
Castle of Meung, Meung Sur Liore
Castle of Villandry, Villandry
Centre national du costume de scene, Moulins
Chateau de Bouges, Bouges de Chateau
Chateau de Chateaudun, Chateaudun
Château-de-Fougères-sur-Bièvre
Château-de-Montpoupon, Cere-la-ronde
Château-du-moulin, Lassay-sur-Croisne
Château-de-vaux-le-vicomte, Miancy
Collections of the Parliaments of the European Union, Paris
Collections-of-the-city-of-saint-germain-en-laye,
Comédie-des-champs-elysées, Paris
Villa-ephrussi-de-rothschild, Saint Jean Capp Ferrat
Festival d aix en provence, Aix-en-Provence
Maison-des-cultures-du-monde, Vitre
Musée-des-arts-et-métiers, Paris
Musée-des-beaux-arts-de-lyon, Lyon
Musee-dart-classique-de-mougins Mougins
Opéra-national-de-paris, Paris
Théâtre-des-champs-elysées, Paris
ITALY
Accademia di Bella Arti di Bologna, Bolgna
Bagatti Valsecchi Museum, Milano
Boschi Di Stefano Museum, Milano
Borgo Medievale Torino, Torino
Ca' Rezzunico – Museum of the 18th Century Venice, Venezia
Castello Odescalchi, Brachiano
Musei-civici-di-reggio-emilia, Reggio Emilia
Consorzio-per-la-tutela-del-palio-di-siena, Siena
Cultural Beauty District -MilanoCard Group, Milan
Fondazione brescia musei, Brescia
Fondazione gianfranco ferre, Milano
Fondazione-pitti-discovery, Milano
Galleria-civica-di-arte-moderna-e-contemporanea, Torino
La-biennale-di-venezia, Venezia
Mart-museo-di-arte-moderna-e-contemporanea-di-trento-e-rovereto, Riverto
Massimo Theater Foundation, Palermo
Mudec – Museum of Cultures, Milano
MUSE – The Science Museum, Trento
Museo-civico-di-storia-naturale-ferrara, Ferrara
Museo-d-arte-orientale, Torino
Museo-della-calzatura-villa-foscarini, Stra
Museo-della-civilta-romana, Roma
Museo-di-roma-in-trastevere, Roma
Museo-della-scultura-antica-giovanni-barracco, Roma
Museo-diocesano-milano, Milano
Museo-internazionale-delle-ceramiche-in-faenza, Faenza
Museo-nazionale-dell-automobile, Torino
Museosalvatoreferragamo, Firenze
Museum of Mines of Mercury Monte Amiata, Santa Fiora
Museum of Natural History, Venice
Museo-archeologico-nazionale-di-ferrara
Teatro-dell-opera-di-roma, Roma
Valley of the Temples, Agrigento
Veneranda biblioteca-ambrosiana, Milano
vittoriale-degli-italiani , Gardone Riviera
Youth Committee of the Italian Commission for UNESCO,
MEXICO
Foto-museo-cuatro-caminos, Naucalpan de Juarez
Museo-de-arte-popular, Ciudad de Mexico
Museo-del-estanquillo, cuauhtémoc
Museo-dolores-olmedo, Ciudad de Mexico
Museo-frida-kahlo, Ciudad de Mexico
Museo-de-la-memoria-y-tolerancia
Museo-nacional-de-antropologia-mexico
Museum of purpose of the Object, Ciudad
National Museum of Death, Auguascalientes
IRELAND
Chester-beatty-library, Dublin
Glasnevin-cemetery-museum, Dublin
National-library-of-ireland, Dublin
The-royal-irish-academy, Dublin
INDIA
Academy of Fine Arts and Literature, New Dehli
Archaeological Survey of India, New Dehli
Chhatrapati-shivaji-maharaj-terminus, Mumbia
Chhatrapati-shivaji-maharaj-vastu-sangrahalaya, Mumbia
Darjeeling himalayan railway, West Bengal
Dr-bhau-daji-lad-mumbai-city-museum, Mumbia
Heritage-directorate-indian-railways, New Dehli
Heritage-transport-museum, Gurugram
Kangra-valley-railway, Pathankot
Kiran-nadar-museum-of-art, New Dehli
National-gallery-of-modern-art-ngma-new-delhi
National-rail-museum, New Dehli
Nehru-memorial-museum-library, New Dehli
Neverenuf-garden-railway, Gurugram
Nilgiri-mountain-railways, Udagamandalam
Rail-enthusiasts-society, New Dehli
Rewari-steam-loco-centre, Rewari
V-shantaram-motion-picture-scientific-research-and-cultural-foundation, Mumbia
Victoria-memorial-hall, Kolkata
Xuanzang-memorial-nava-nalanda-mahavihara, Baragon
SOUTH KOREA
Arumjiji Culture Keepers Foundation, Seoul
The-chung-young-yang-embroidery-museum, Seoul
Eumsikdimibang, Gyeongsangbuk-do
Gwacheon national science museum, Gwacheon
Gwangju-design-center-foundation, Kwangju
Gyeonggi childrens museum, Yongin-si
Gyeonggi-museum-of-modern-art, Gyeonggi-do
Gyeonggi-provincial-museum. Yongin-si
Gyeongju-national-museum, Gyeongju
Jeju-provincial-self-governing-heanyeo-museum
Jeongok-prehistory-museum, Yeoncheon
Korea-international-cooperation-agency, Seongnam-si
Korea-national-maritime-museum, Busan
Korean-stone-art-museum, Seoul
The-museum-of-silhak, Namyangju
Nam-june-paik-art-center, Yongin-si
Namhansanseong World Heritage Center, Gwangju-si
National-folk-museum-of-korea, Soul
National-institute-of-biological-resources, Incheon
National-intangible-heritage-center, Jeonju
National-marine-biodiversity-institute-of-korea, Seocheon
National-museum-of-modern-and-contemporary-art-korea, Gwacheon
National-palace-museum-of-korea
The-presidential-archives, Sejong-si
Seodaemun-museum-of-natural-history, Seoul
Seok-juseon-memorial-museum-dankook-university, Yongin
Sookmyung-women's-university-museum
SPAIN
Biblioteca Museu Victor Balagueur, Vilanova I La Geltru
The Cathedral de Santiago Foundation, Santiago de Compostela
Centre Andaluz de arte Contemporaneo, Sevilla
Conjunto arqueologico de baelo claudia, Cadiz
Conjunto arqueologico de carmona, Carmona
Conjunto arqueologico de castulo, Linares
Conjunto-arqueologico-de-italica, Santi Ponce
Conjunto arqueologico de los dolmenes de antequera
Conjunto-arqueologico-de-madinat-al-zahra, Cordoba
Conjunto monumental de la alcazaba de almeria, Almiria
Cristobal-balenciaga-museoa, Gatria
Fundacio municipal joan abello, Mollet de Valles
Vil·la-museu-pau-casals, Sant Salvador
Fundación alberto jiménez arellano alonso universidad de valladolid, Valladolid
Gordailua, the Gipuzkoa Heritage Collection Centre, Irun
Museo-arqueologico-de-cordoba, Cordoba
Museo-arqueologico-de-sevilla, Sevilla
Museo-arqueologico-de-ubeda, Ubeda
Museo-carmen-thyssen-málaga, Malaga
Museo-casa-de-cervantes, Valladolid
Museo-casa-de-los-tiros-de-granada, Grenada
Museo-casa-natal-de-cervantes, Alcala de Henares
Museo-casa-de-los-tiros-de-granada, Granada
Museo-de-artes-y-costumbres-populares-de-sevilla, Sevilla
Museo-de-artes-y-costumbres-populares-de-sevilla, Sevilla
Museo-de-artes-y-costumbres-populares-del-alto-guadalquivir, Cazorla
Museo-de-bellas-artes-de-cordoba, Cordoba
Museo-de-bellas-artes-de-granada, Grenada
Museo-de-bellas-artes-de-sevilla, Sevilla
Museo-nacional-de-ciencias-naturales-mncn-cesic, Madrid
Museo-thyssen-bornemisza, Madrid
Museu-art-modern-diputacio-tarragona, Tarragona
Museu-de-les-ciències-naturals-de-barcelona
Museu de les terres de ebre, Amposta
Museu-del-disseny-de-barcelona
Museu-nacional-arqueologic-de-tarragona
Museu-nacional-dart-de-catalunya, Barcelona
National Museum of Science and Technology of Catalonia, Terrassa
Rafael Maso Foundation, Girona
Real-academia-de-bellas-artes-de-san-fernando, Madrid
Real-academia-espanola, Madrid
Spanish RAilways Foundations, Madrid
GREECE
JAPAN
Aomori Nebuta Matsuri, Aomori City
Fukuoka-asian-art-museum, Fukuoka Prefecture
Hamamatsu-city-fuku-akino-art-museum, Hamamatsu-shi
Hamamatsu-museum-of-musical-instruments, Hamamatsu-shi
The-kioi-gallery-ise-katagami-museum, Tokyo
Kyoto costume institute, Kyoto
The kyoto museum of traditional crafts, Kyoto
Kyoto prefectural domoto insho museum of fine arts, Kyoto
Kyoto prefectural library and archives, Kyoto
Mie-prefectural-museum, Tsu Shi
Mie-prefectural-museum, Tsu Shi
Mt-mitoku-sanbutsu-ji-temple, Misasa-Cho
The-museum-of-modern-art-gunma, Takasaki-shi
The-museum-of-modern-art-saitama
Museum-of-the-sakitama-ancient-burial-mounds, Gyoda-shi
Nakagawa-machi-bato-hiroshige-museum-of-ar, Nasu-gun
National-congress-of-industrial-heritage, Tokyo
The-national-museum-of-modern-art-tokyo, Tokyo
National-museum-of-nature-and-science, Taito-ku
The-national-museum-of-western-art, Taito-ku
Ohara-museum-of-art, Kurashiki
Saitama-prefectural-museum-of-history-and-folklore, Saitama
Seto-inland-sea-folk-history-museum, Takamatsu
Shizuoka-prefectural-museum-of-art
AUSTRIA
Austrian National Library, Wien
Domquartier salzburg residenzgalerie, Salzburg
Imperial Carriage Museum, Wien
Kunsthistorisches museum vienna museum of fine arts, Wien
The-neue-burg-heldenplatz, Austria
UNITED KINGDOM
Arbeia Roman Fort & Museum, South Shields
Baltic Center for Contemporary Arts, Gateshead
Black Cultural Archives, London
The Bowes Museum, Bernard Castle
Discovery Museum, Newcastle upon Tyne
Dulwich picture gallery, London
Georgian-theatre-royal, Richmond
Global Street Art Foundation, London
Harris Museum and Art Gallery, Preston
The Hepworth Wakefield, Wakefield
Irish-linen-centre-lisburn-museum, Lisburn
Laing-art-gallery, New Castle upon Tyne
Lakeland-arts-trust-abbot-hall-museum, Kendal
London-college-of-fashion, London
London-design-biennale, London
National-museum-of-scotland, Edinburg
Natural-history-museum, London
Royal-albert-memorial-museum-art-gallery, Exeter
Royal-college-of-music, London
South-shields-and-art-gallery, South Shields
Stonehenge-and-avebury-world-heritage-site, Chippenham
GERMANY
Alte Nationalgalerie, Staatliche Museen zu Berlin, Berlin
Altes Museum, Staatliche Museen zu Berlin, Berlin
Bode-Museum, Staatliche Museen zu Berlin, Berlin
Eberbach Monastery, Eltville am Rhein
Federal Ministry of Education and Research, Bonn
Foundation for Art and Culture, Bonn
Galerie-alte-und-neue-meister, Schwerin
Gemaldegalerie-staatliche-museen-zu, Berlin
German Hat Museum, Lindenberg i'm Allgua
German Oceanic Museum, Stralsund
Hamburg archaeological -museum, Hamburg
Kunstgewerbemuseum-staatliche-museen-zu-berlin, Berlin
Museum kunstpalast dusseldorf, Dusseldorf
Museum-europaischer-kulturen-staatliche-museen-zu-berlin, Berlin
Museum-fuer-hamburgische-geschichte, Hamburg
Neues-museum-staatliche-museen-zu-berlin
New Chambers Sanssouci, Prussian Palaces and Garden Foundation, Potsdam
Oldenburg-state-museum-for-art-and-cultural-history
Ozeaneum, German Oceanic Museum, Stralsund
Pergamonmuseum-staatliche-museen-zu-berlin
Picture Gallery Sanssouci, Prussian Palaces and Garden Foundation, Potsdam
Renaissance-and-reformation, German Art in the day if Durer and Cranach
Schloss Sanssouci, Prussian Palaces and Garden Foundation, Potsdam
Sanssouci Park, Prussian Palaces and Garden Foundation, Potsdam
Senckenberg-nature-museum-frankfurt
Speicherstadt-digital, Hamburg
Staatliche-kunsthalle-karlsruhe
naturhistorisches-museum-braunschweig
STate Chancellery Saarland, Saarbruken
Stiftung-brandenburger-to, Berlin
Viva-con-agua-de-sankt-pauli, Hamburg
FINLAND
Alvar Aalto Foundation, Helsinki
INDONESIA
Sangiran-early-man-museum, Jawa Tenga
Pt-taman-wisata-candi-borobudur-prambanan-dan-ratu-boko
Unit-pengelola-museum-seni, Jakarta
AUSTRALIA
Art Gallery of New South Wales, Sydney
Canberra Museum and Gallery, Canberra
GeoScience Australia, Symonston
Melbourne STreet Art by Invurt, Melbourne
Powerhouse-museum-of-applied-arts-and-sciences, Ultimo
National Museum of Australia, Acton
Parramatta-park-trust-and-western-sydney-parklands-trust
Public-record-office-victoria-prov, North Melborne
Queensland-art-gallery-gallery-of-modern-art, South Brisbane
Queensland-museum-network, South Brisbane
Sculpture-by-the-sea, Surry Hills
South-australian-museum, Adelaide
State-library-of-new-south-wales, Sydney
State-library-of-queensland, South Brisbane
State-library-of-victoria, Melbourne
HONG KONG
Art Research Institute, Hong Kong
Hong Kong Museum of Medical SCiences
Pokfulam-village Cultural Landscape, Pok Fu Lam
West-kowloon-cultural-district-authority, west Kowloon
CHINA
Arts and Crafts Museum Hangzhou, Hangzhou
China National Silk Museum, Hangzhou
China Paper Cutting Museum, Yangzhou
Hubei-provincial-museum, Wuhan
Jinsha site museum chengdu china, Chengdi-shi
Long Museum West Bund, Shanghai
Museum-of-ethnic-costumes-beijing-institute-of-fashion-technology, Bejing
Nationalities-museum-central-university-for-nationalities, Bejing
Museum-of-the-tomb-of-han-guangling-king, Yangzhou
Ullens Center for Contemporary Arts, Beijing
SWEDEN
The-royal-armoury-sweden, Stokholm
NEW ZEALAND
Aukland Art Gallery Toi o Tamaki, Aukland
UNITED ARAB EMIRATES
Barjeel Art Foundation, Sharja
BRAZIL
Bienal de Sao Paula, Sao Paula
Centro Cultural Banco do Brasil Belo Horizonte, Belo Horizonte
Centro Cultural Banco do Brasil Belo Brasil Breslia
Centro Cultural Banco do Brasil Rio de Jeneiro
Centro Cultural Banco do Brasil Sao Pualo
Chamber of Deputies, Brazil, Brasilia
The Football Museum, Sao Pualo
Fundação-theatro-municipal-de-são-paulo, Sao Pualo
Ibere Camargo Foundation, Porto Alegre
Immigration Museum of the STate of Sao Pualo, Sao Pualo
Instituto-moreira-salles, Rio de Janeiro
Instituto-tomie-ohtake, Sao Pualo
Instituto-vladimir-herzog, Sao Pualo
MAM Museo Modern Art, Sao Pualo
Museu-nacional-de-belas-artes, Rio
Pinacoteca-do-estado-de-sao-paulo
Rio De Janeiro Department of Conservation
Sanctuary of Christ the Redeemer, Rio
MONGOLIA
The Bogd Khaan Museum, Ulaanbataar
The-fine-arts-zanabazar-museum, Ulaanbataar
The-national-museum-of-mongolia, Ulaanbataar
RUSSIA
Erarta museum Of Contemporary Art, Saint Petersburg
Esenin-moscow-state-museum, Moskva
The Holy Trinity- St. Sergius Lavra, Sergiev Posad
Mikkhail Bulgakov Museum, Mockva
Museum A. P. Chekhov "Melikhovo
Memorial-museum-of-cosmonautics, Moskva
Art-museum-peredelkino, Moscow
Museum-of-fine-arts-of-tatarstan, Kazan
Museum-of-the-great-patriotic-war, Muskova
Museum-of-the-siege-of-leningrad
Museum Estate of Leo Tolstoy, Yasnaya
Museume Reserve of Feodor Tyutchev
The National Art Museum of the Republic of Sakha
People-of-the-world-khomus-museum-and-centre, Yakutsk
The-pushkin-state-museum-of-fine-arts-moscow
Research and Development Production Enterprise Zvedza
Russian-military-historical-society, Moscow
Russian-literature-museums, Moskva
/the-state-hermitage-museum, St Peteresburg
The-state-russian-museum-st-petersburg
The-state-tretyakov-gallery, Moscow
Tsiolkovsky-state-museum, Kaluga
Vernadsky-state-geological-museum, Muskva
MALTA
Gozo-museum-of-archaeology, Ir-Rabat Ghawdex
Gozo Nature Museum, Ir-Rabat Ghawdex
Gran-castello-historic-house, Ir-Rabat Ghawdex
The-hagar-qim-archaeological-park, Il-Qrendi
Hal-saflieni-hypogeum, Rahal Gdid
National-museum-of-archaeology, Valletta
National-museum-of-natural-history, L-Mdina
the-old-prison-of-gozo, Victoria
Tas-silg-archaeological-complex
DENMARK
The Danish Parliament, Kobenhav
The-hirschsprung-collection, Kobenhavn
National-museum-of-denmark, Kobenhavn
Ny-carlsberg-glyptotek, Kobenhavn
Thorvaldsens-museum, Kobenhavn
TURKEY
Borusan Contemporary, Istanbul
Museum of innocence, Instanbul
BELGIUM
Royal-belgian-institute-of-natural-sciences, Bruxelles
Royal Museum of Fine Arts Antwerp
Royal Museum of Fine arts Belgium, Bruxelles
SLOVAKIA
Galéria-miloša-alexandra-bazovského-v-trenčíne-miloš-alexander-bazovský-gallery, Trencin
galéria-umelcov-spiša , Spisska Nova Ves
Erest-zmeták-art-gallery-in-nové-zámky, Nova Zamky
Liptovská-galéria-petra-michala-bohúňa, Liptovska
Oravská-galéria-v-dolnom-kubíne
HUNGARY
Budapest History Museum, Budapest
Hungarian State Opera, Budapest
Museum of Applied Arts, Budapest
Museum-of-fine-arts-budapest, Budapest
PORTUGAL
Calouste Gulbenkian Museum, Lisboa
Fundacao-portuguesa-das-comunicacoes, Lisboa
Galeria-de-arte-urbana, Lisbon
Museu-coleccao-berardo, Lisboa
National-museum-of-costume-in-portugal, Lisboa
ROMANIA
Complexul-national-muzeal-astra, Sibiu
Muzeul-național-brukenthal, Sibiu
Palace of Parliament, Chamber of Deputies, Bucharest
NETHERLANDS
Dutch national opera ballet, Netherlands
Het-markiezenhof-historisch-centrum, Bergen op Zoom
Museum-boijmans-van-beuningen, Rotterdam
Naturalis Biodiversity Center, Leiden
Rijksmuseum-van-oudheden, Leiden
CZECHIA
Egon schiele art centrum, Cesky Krumlov
Knihovna-vaclava-havla-vaclav-havel-library, Nove Mesto
Městské-muzeum, mariánské-láznět,
Museum-of-decorative-arts-in-prague
Museum-t-g-masaryk-lany, Rakovnik
Muzeum-umění-olomouc-olomouc-museum-of-art, Olomouc
Oblastní-galerie-liberec, Liberec
PAKISTAN
Pilsen-philharmonic, Predmesti
Národní-divadlo-national-theatre, Nove Mesto
Oblastní-galerie-liberec, Liberec
Walled-city-of-lahore-authority-wcla, Lahore
SWITZERLAND
Musee-dethnographie, Neuchatel,
Museum-of-horsepower-basel-historical-museum, Basel
The-polish-museum-in-rapperswil
TAIWAN
Fubon Art Foundation, Taipei City
SINGAPORE
Gan-heritage-centre, Singapore
ARGENTINA
NORWAY
International Museum of CHildren's Art, Oslo
The National Museum of Art, Oslo
PHILIPPINES
Intramuros-administration, Manila
Malacanang-presidential-museum-and-library, Manila
University of The Philippines, Iliolo
JERUSALEM
The-israel-museum-jerusalem, Jerusalem
THAILAND
The-james-h-w-thompson-foundation
Kamthieng house museum of the siam society,
Museum-of-contemporary-art-moca-bangkok
Queen-sirikit-museum-of-textiles, Nakhon
Royal Project Foundation, Saraphi
POLAND
The-auschwitz-jewish-center, Oswiecim
National-forum-of-music-in-wroclaw, Wroclaw
The-museum-of-the-history-of-polish-jews-jewish-museum-warsaw, Warsaw
The-state-ethnographic-museum-in-warsaw
LATVIA
LITHUANIA
Lithuanian-art-museums, Vilnius
PERU
Universidad-nacional-de-san-antonio-abad-del-cusco-unsaac, Cusco
LUXENBOURG
GUATEMALA
Museo-ixchel-del-traje-indigena
CROATIA
The Museum of Arts and Sciences Zagreb
COLUMBIA
Museo-de-arte-contemporaneo-de-bogota
QATAR
The-museum-of-islamic-art-qatar, Doha
SLOVENIA
National-museum-of-slovenia, Ljubljana
Pokrajinski-muzej-ptuj-ormož, Ptuj
BULGARIA
Regional-ethnographic-museum-plovdiv, Plovdiv
SOUTH AFRICA
Robben-island-museum, Cape Town
CANADA
Vancouver-art-gallery, Vancouver
ESTONIA