10 Fantastically Homeschool Friendly Field trips on the Gulf Coast!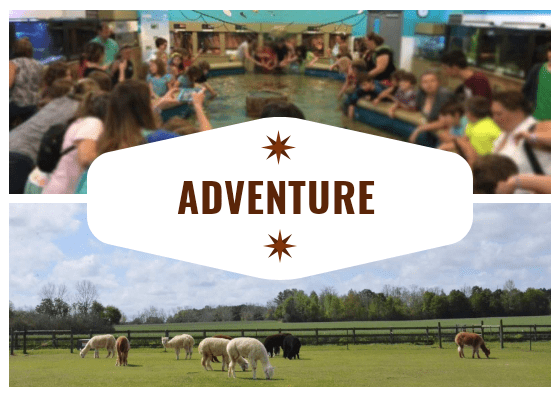 Homeschoolers come with their own unique field trip challenges. From the wide age ranges of our kids, a multitude of chaperones, and sometimes little bitties in strollers and carriers, to the many payments, many cars, and many personalities that come with us! We aren't your average group to take on! Our community appreciates those that have done it with more than grace, they have blown us away!
For more than 5 years the History Museum of Mobile has been a huge supporter of our community. Home schoolers have been on the must attend list to their Colonial Days in the spring, invited to participate as actors in their Night at the Museum in the fall, and been welcomed to hold a Homeschool History Fair in their atrium! They are fantastically accommodating to our large group, and wide age spans. The museum offers two levels of scavenger hunts for the attendees! One for the big kids that has them finding blue footprint marked exhibits to find answers to in depth questions that really have them looking deeper at what is around them. Smaller kids are given picture clue scavenger hunts to keep their attention on artifacts and exhibits that can sometimes be overwhelming to them! Through all of this our tour guide led our slightly scattered group slowly through the exhibits giving us in depth insights on everything we were looking at with unending patience!
The Archaeology Museum is a small, hidden gem of a museum located on the campus of the University of South Alabama! I was nervous that such a small place would have trouble handling our merry band of misfits! It turns out they were more that ready for us! They split our group down the middle, taking the older kids through one side of the museum, and our littles outside to play the games of children of the ancient times. Then it was just a matter of timing and moving us around and through different points at different times! Each age group got to complete a small project, and the littles were read stories and given archaeologist vests with pockets filled with picture tiles to discover things they might have missed their first trip through. The exhibits are beautiful and detailed, and the people that led us through were the epitome of patience and understanding.
Historical homes are a tough sell for kids sometimes. They are usually austere places where the words "no, don't touch" are said more often than not! At the Richards home you are greeted by lovely women of the Daughters of the American Revolution in period dress, ready to welcome you into their home. This was another location that had the divide and conquer concept down, allowing for both groups to get the most out of the experience. The BEST part for the kids was the ability to interact with the things around them. They picked up heavy cast iron irons, played ditties on the antique piano, and even got to (carefully) test out toys from a bygone time. At the end everyone was brought back together in the dining room to enjoy their special hot tea and a variety of sweet treats! This part I particularly enjoyed. Having all the kids together and discussing what they had seen and done, while the ladies of the DAR elaborated on their stories and told them more about the lovely home….and the snacks were perfect for keeping all ages in good spirits! At no point did we feel like our children were intruding, on the contrary our tour guides seemed as excited as us parents to see kids, from littles to teens, interested in the historical significance of that surrounding them!
I have planned a trip here 3 times in the last 5 years and they have exceeded expectations every time. The people who run this field trip do divide the group up, not by age, but to keep the group sizes small. Here we are welcomed into a huge auditorium where the kids learn all about the dolphin rescue and recovery program that is run out of the facility. Later they get to visit touch pools full of a variety of sea creatures, interact with a living creatures like baby alligators or snakes, practice a dolphin rescue with an inflatable dolphin and rescue gear, and watch a dolphin and sea lion show that rivals any I have seen at area zoos! We have been welcomed back again and again and they are always given us a fantastic time!
5 Rivers offers a swath of options for you to experience! This means whether you are covering anything from Alligators to insects at home they have you covered! Their Tensaw Theater, Apalachee Exhibit Hall, Nature Trails, Little Bateau Learning Center are all available to visit and customize when you visit! You can choose from among the over 10 modules available. Some of these are Insectigations, Alabama Snakes: Venomous vs Non, and Wildlife Detectives! Throw in their hiking trails and creature interactions and this place covers all the field trip fun bases! Also because of this you can go many times over the course of a year and never repeat a topic! The people of Five Rivers are fabulous at interacting with kids of all ages and making everyone feel included. At the end of your visit you can stay for a picnic on the delta under one of their covered picnic areas!
You might be noticing a theme, animal field trips are almost always a hit! The uniqueness of the Alpaca farm added to the excitement. The space here was small, and yet they were still able to seamlessly accommodate our group of moms, toddlers (some in strollers), and 26+ kids! One of the fun added bonuses here was they had several home schooled kids that helped out for the field trip! The kids were split up by ages, and cycled through the facility, meeting and interacting with the alpacas, watching a video on the shearing process, and trying out the process where the fleece is separated and made into workable materials! At the end of the trip all the kids met in one room and were able to use Alpaca fleece to create their own bit of art to take home!
These lovely ladies also directed us to nearby Oscar Johnson Park that my son is still begging to return to! This park had a huge covered pavilion, a great play ground, and an amazing little creek running behind it! Our teens down to our littles walked and splashed and played king of the mountain!
The ballet can be a scary prospect when it comes to kids. With a prohibitive cost to larger families it is often missed out on opportunity by larger homeschool families. Couple that with a fear of younger children's short attention spans and many times it is a completely passed by by homeschool families. Not so thanks to the Mobile Ballet. They have allowed us to be included in their school trips for many years now! These shows are usually a tad shorter than night performances, the entire theater is packed with kids, and the cost is greatly reduced! There are easy to access bathroom facilities and exits in the event a child doesn't love the beautiful ballet as much as you do, or they are able to regroup in privacy and return. The ballet also often offers behind the scenes glimpses during intermission! One of my kids favorite things is watching the swept up snow and the change of scenery while waiting for the show to start back.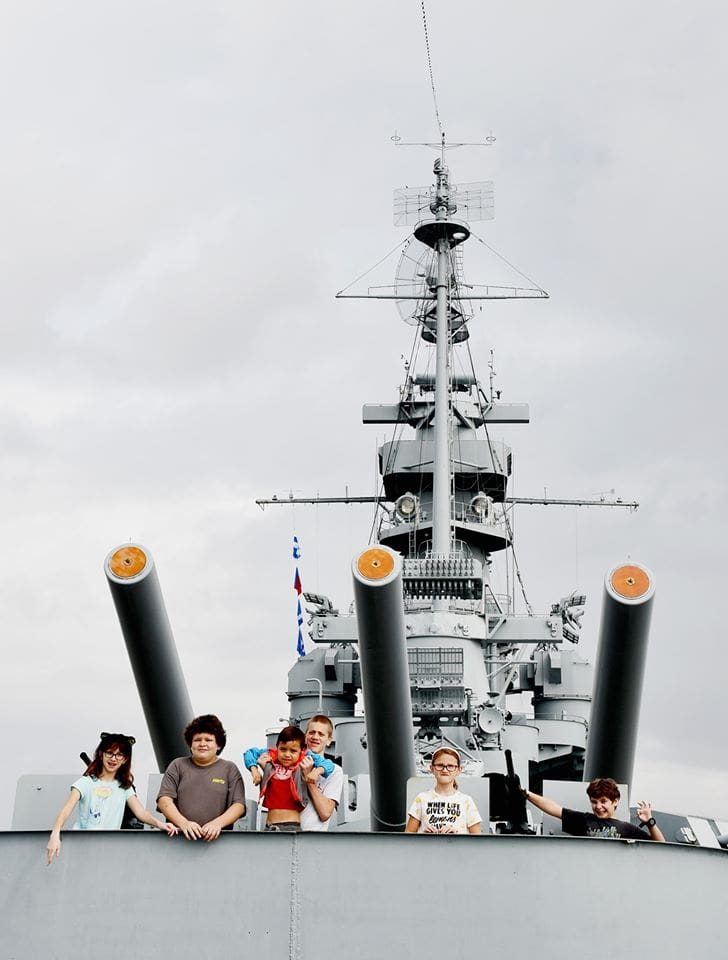 This is one of the biggest bang for your buck Adventures! For the amazing field trip rate you get to check out the entire battleship, airplane hanger, and the USS Drum submarine. I swear that ship gets bigger every year. They DO add new and updated things to see regularly. We Adventure here every year and it's always a huge hit! Plan to bring a picnic and check out the military equipment that dots the park, and the trees that are planted in the shape of Alabama! You can also just pay pt park ($4) and visit the memoorials on the grounds. They " invite you to visit the Korean Memorial, Vietnam Memorial, complete with a standing POW bracelet, and our Fallen Guardian Memorial honoring those whose lives were lost in service to the U. S. Coast Guard. Don't miss our poignant Service Dog War Memorial. This monument honors the dogs who served our country. Explore our Fallen Hero 9/11 Memorial that pays tribute to all the Alabamians who have given their lives in service since 9/11. " Which we have done on memorial day as part of our lessons for that day.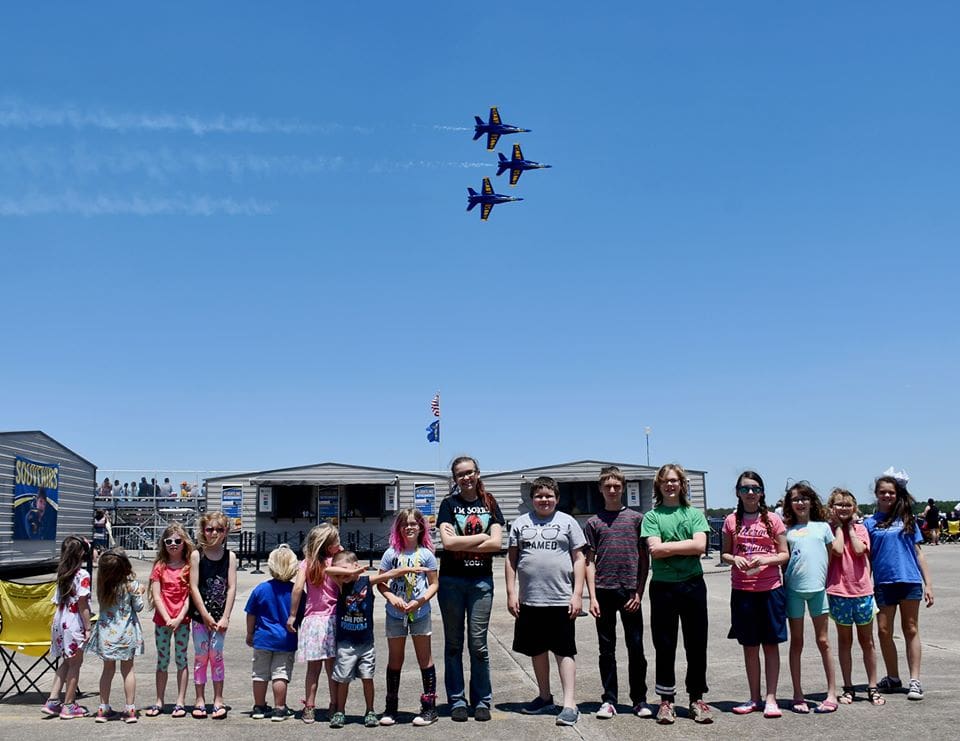 The Naval Aviation museum in Pensacola is fantastic! This FREE museum is huge and has so many amazing things to see you need to give yourself plenty of time to explore. Even though this is a FREE place I do recommend letting them know if it looks like you will be bringing a crowd. In the main museum you can get up close and personal with many aircraft, but also with scenes and videos from the era of several wars. We have brought a little extra to let the kids do a flight simulator. When you head out the back of the museum you get into the hanger where you find even more aircraft, but also several planes the kids can climb into and really get the feel of! To give this an added bump check the practice flight schedule of the Blue Angels! The crowds are so much smaller, you can park at the museum, watch the show, and then visit the museum. Even though it is "just" a practice its an awesome show!
The Wallace Tunnel
This has to be one of the most popular field trips, and has been done many many times! The people at the Wallace Tunnel never hesitate to welcome our groups! First you learn about the history and the logistics of building and placing the tunnel, then they take you on a tour of the workings of the tunnel. You go around and under and sometimes you get a peek at the through! The stairs are something else! They are very steep and seem to go on forever! This isn't the best trip for toddlers, but it easily fits all other ages. After thoroughly exploring the tunnel's underbelly, they take you to the traffic control room and teach the kids (and adults) how they stay on top of all the area roads and bridges! You will never look at the tunnel the same again!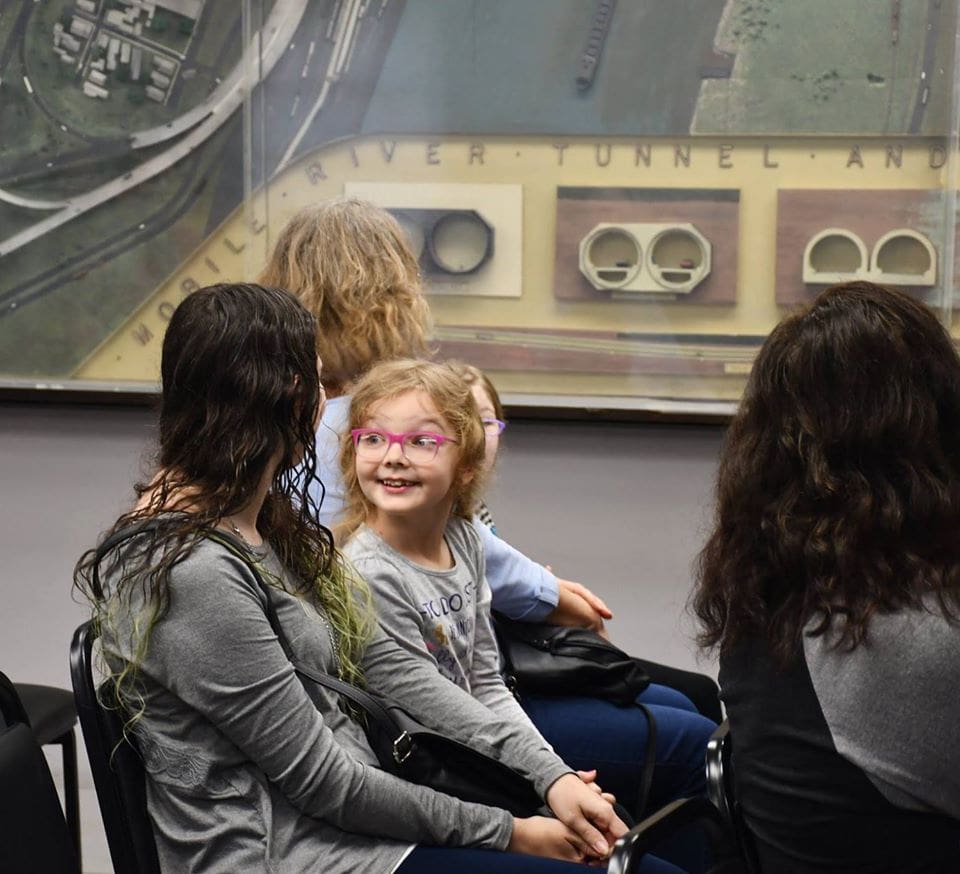 I have planned a multitude of Adventures to area locations, and most have gone off flawlessly. There are times though that working through the logistics of taking on a homeschool group can overwhelm, and confound. We appreciate EVERY location that has worked with us, and welcomed us, and we can't wait to visit again! To go on these, and many more fabulous adventures be sure to join Erin's Gulf Coast Homeschool Adventures!